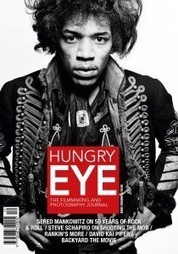 Hungry Eye Issue 1, Vol 2 has landed! Get your hands on the latest issue of Hungry Eye - Vol 2, Issue 1.
In this, the first issue of Volume 2, Gered Mankowitz is interviewed on his 50 Years of Rock & Roll photography. The legendary studio photographer tells Hungry Eye about his 50 year archive of iconic images. Anecdotes abound in this exclusive interview for Hungry Eye.
Cinematographer Mark Richards and Director Julian Wallinger tell the story of this cult awakening and the making of the documentary, Backyard: The Movie.
Iconic image-maker Steve Shapiro talks to Hungry Eye about his work on the Godfather trilogy, Taxi Driver in this exclusive interview.